(Posted to the website on February 22, 2008)
---
AIR FORCE TIMES (Europe) NOVEMBER 25, 1964
(Posted to the website on February 22, 2008)
SEMBACH, Germany – A sergeant assigned to Sembach is living a "fast" life these days.
SSgt. Linvel L. Kyser, 887th Tactical Missile Sq. launch crew chief, participates in one of the world's most demanding sports, auto racing. His main ambition now is to attain an international racing license.
Kyser started his racing career In 1959 at Denver, Colo., where he drove a Jaguar at the Continental Divide Raceway. As the cliche goes, he was "like a fish taking to water." He took second place in the production class E in 1959.
"Racing is a hobby that I would enjoy as a profession," the dark-haired driver attested, "because the competition is superb and proves to be quite a challenge."
Arriving in Germany in March 1961, Kyser waited until February 1962 before resuming his racing career. In June 1964 he bought a Mini-Cooper, which has been his entry in many hill climbs and races throughout the country.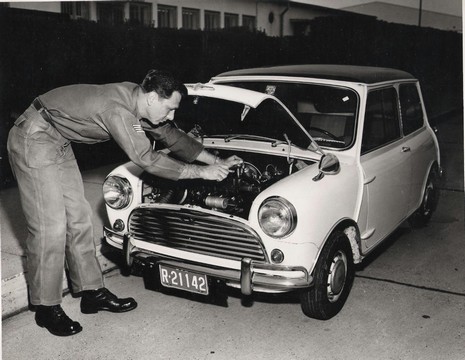 SSGT. Linvel Kyser of the 887th Tac. Missile Sq., Sembach AB, Germany, tunes up his Mini-Cooper racing car.
The car is classed in the 1000-1300 cc touring car category, and has a top speed of 105 mph. It has a four-speed transmission, four cylinders and is rated at 85 American horsepower. The Coopers compete with such racers as the Alfa Romeo II and the new Glas 1204.
Since Kyser has been driving abroad, he has competed in seven international rallies and three hill climbs and has won one gold, two silver and one bronze medals.
"One of my most interesting races this year", said Kyser, "was the German Kurpfalz Rally held in August. In this one, I finished first in the 1000-1300 cc class."
"The peculiar thing about this rally was that of the 84 cars starting, only 16 finished," Kyser related. The losses were due not to crashes, but rather to disqualification for being more than 30 minutes behind the leaders."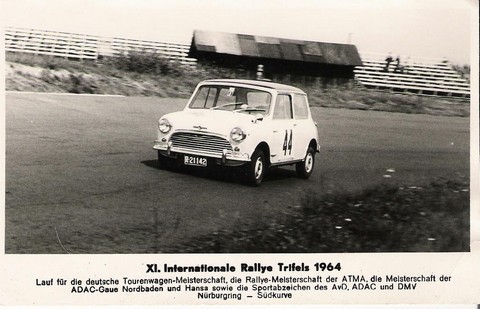 Internationale Rallye Trifels – 1964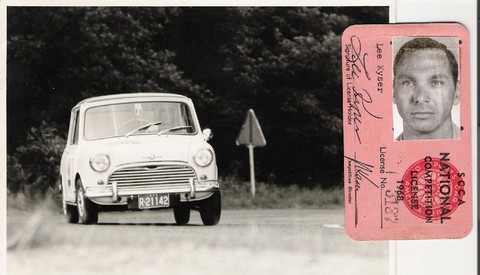 Nurburgring 1964 & SCCA Competition License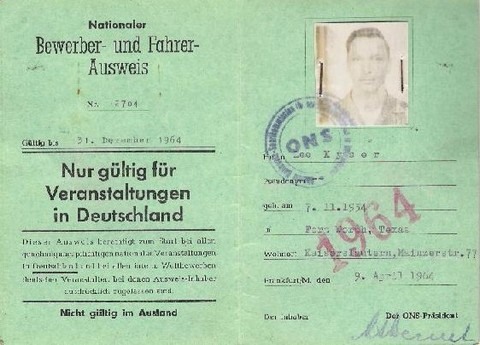 German Competition License (photo courtesy of Lee Kyser)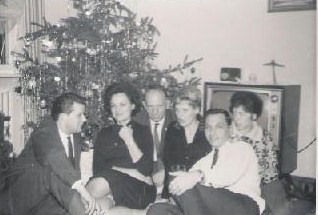 Lee (2nd from rt.) & Rene (3rd from rt.) Kyser and car club friends – Christmas 1964