---
In a March 7, 2008 email from Jim Plowden (822nd TMS; Crew #1-9) to Russ Reston et al, Jim in part states:
"Funny how we remember the cars in our lives more than the women in our lives!"
With that in mind, I thought it might be interesting to show some of the cars our friends were driving back in the 1960s.? If you have a photo of the car you were driving back then, send it to Russ Reston, so that it can be included in this article.
Based on a previous website posting (Sembach Sergeant Living Fast' Life) we know that Lee Kyser (887th TMS; Crew #3-7) was driving and racing a 1964 Mini-Cooper.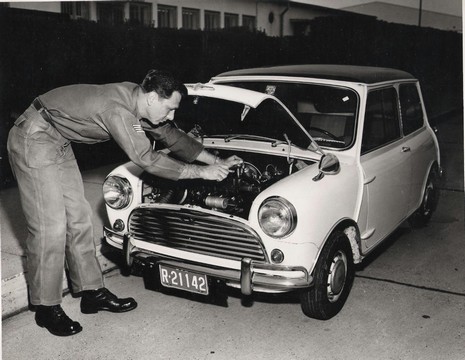 ---
While stationed at Orlando, before arriving at Sembach, Jim Plowden was driving a 1953 Studebaker V8.  Jim recalls:   "Attached is a picture of my first car that I got about two month before I left Orlando AFB.  It was a beautiful little bronze 1953 Studebaker V8.  I used to hitch hike home to Tampa every weekend, which got old quick, so I bought this beauty for $175.00.  I would put in $2.00 worth of gas and buy 4 quarts of reclaimed oil (remember the stuff in the bottles with the pointed top filler) for $.25 a bottle.  By the time I got to Tampa, I had plenty of gas but two quarts low on oil and a trail of suffocated drivers and mosquitoes behind me.  My dad sold it after I went to Germany.  The guy who bought it gave my dad a $35.00 deposit and drove away.  He didn't put oil in, the engine froze and he walked away from it.  It was impounded and that was the end of my bronze beauty."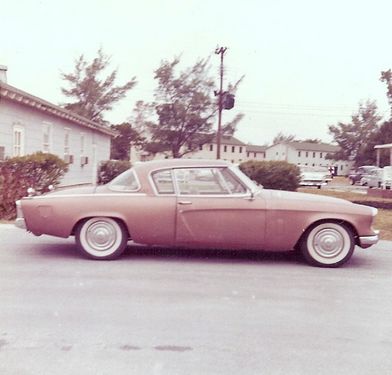 ---
At Lowry AFB and Orlando AFB, Ed Bartik (887th TMS; Crew unknown) drove a 1956 Oldsmobile 98.  Ed and Russ Reston drove this car cross-country from Denver to Philadelphia after graduating from school at Lowry AFB on October 1, 1963.  Following a short leave, they drove from Philadelphia to Orlando AFB for Crew Training.  After completing Crew Training, they drove the car from Orlando to Boston on December 21, 1963, where Ed 'dropped off' Russ before driving home to Allentown, Pennsylvania for leave, and then reporting at Sembach in late January 1964.  While at Grünstadt, Ed drove a 196x Volkswagen.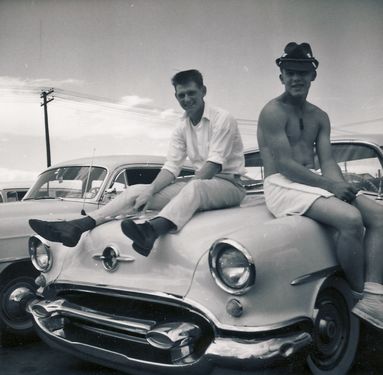 Ed Bartik & Mike Nelson – Lowry AFB 1963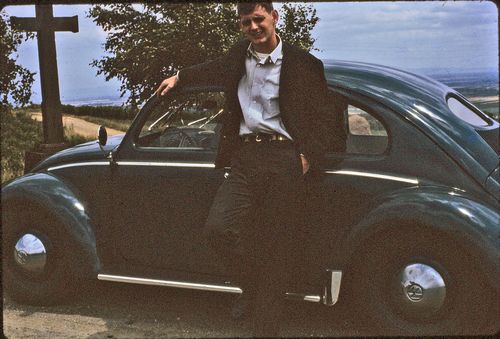 ---
Joe Razidlo (887th TMS; Crew #3-7) also drove a Volkswagen (1963).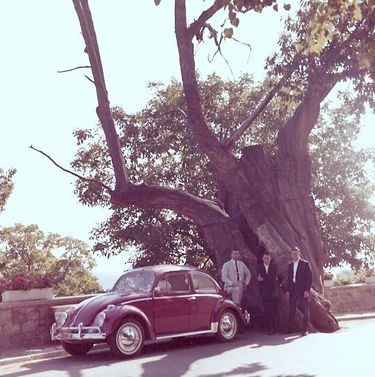 Bill Fahey (822nd TMS), Joe Razidlo & Jim Plowden (822nd TMS)
---
Fred Horky (887th TMS and 38th TMW Missile Operations Center) drove a 196x Karmann Ghia.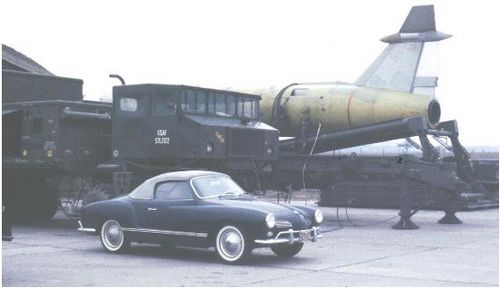 ---
George Burker (887th TMS) drove "Der Panzer Amerikaner".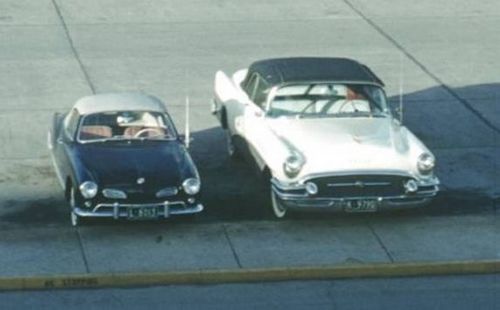 Fred Horky's Karmann Ghia & George Burker's "Der Panzer Amerikaner".
---
Russ Reston (823rd TMS; Crew #2-15) drove a 1953 Volkswagen.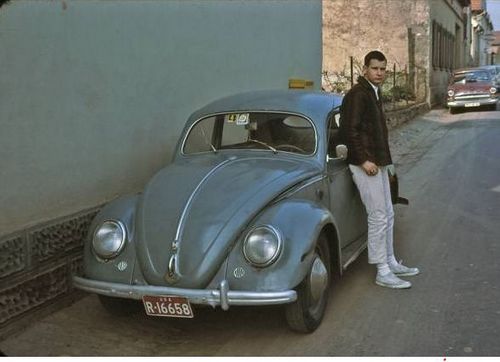 ---
Nick Nicholson's 1955 Opel GTO (Gray Tudor Opel / Grand Tour Overseas)
Michael Hamerski, Paul Latourney and Nick Nicholson
---
Peter Bock (823rd TMS; Crew #2-12) drove a 1960 Porsche Super 90 Roadster.
---
Wayne Dow (823rd TMS; Crew #2-14) drove a Black Triumph TR-3B
---
Send me (Russ Reston) a photo of your car so that I can include it here…Some cars I remember are:
Lt. Nix Adams (823rd TMS) – Grey 1965 Alpha Romero Spider
MSgt. Bill Goodman (823rd TMS) – Green 195x Nash Rambler
Greg Jacobs (823rd TMS) – Blue 195x Porsche Coupe
John "Ray" Lambert (822nd TMS) – Grey 1965 Chevy Corvair Spider Convert.
TSgt. Neil McCumber (823rd TMS) – Beige 196x Nash Rambler Station Wgn.
Jerry Miller (823rd TMS) – Blue 195x Ford Sedan
Paul Monahan (823rd TMS) – Black 1953 Mercedes Sedan
SSgt. Jimmie Park (823rd TMS) – Black 195x Volvo Sedan
Allan "Flash" Owen (823rd TMS) – White 196x Volkswagen
Wayne Dow (823rd TMS) remembers another one:
Lt. Charles "Chuck" Choba (823rd TMS) – Blue MG Midget