---
On February 22, 2008 we posted an article about Lee Kyser's racing activities while stationed at Sembach AB; Sembach Sergeant Living 'Fast' Life (AF Times – November 25, 1964).  The next day, Rui Mauricio, a Mini Cooper owner in New England, advised via the website's Guestbook that he now owns the Mini Cooper S described in the article.  Lee has since contacted Rui and confirmed that, yes, it really is the car he owned and raced while racing in Germany.
In a March 5, 2008 email to AR Krueger et al, Lee Kyser writes:
"Thanks to Russ Reston's new Sembach Missileer website, the current owner of the Mini Cooper S I raced in Germany, and the USA, was able to make contact with me.
The Mini is now a show car and is kept stored in a climatically controlled facility. The serial number has been verified and the owner history is complete.
This is the only current photo I have, so far, but the owner is getting a package together with many more. I'm very pleased the car survived. It will continue to be around, long after I am gone.
The roll bar I installed for racing in the States can be seen through the rear window. Also, on each side of the license plate, there is a plaque installed. They are from an International and a National event that I raced in, in 1964.
I just HAD to share this with you. Thought you might like to see it. I was stunned to see the condition that is in, after 44 years."
Lee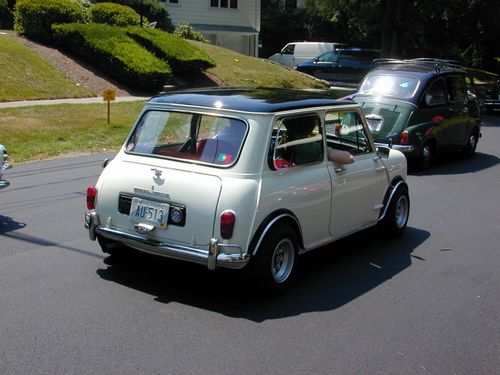 Photo found on the internet from a 2007 car show in Massachusetts.