---
In an email from Fred Horky to Russ Reston, dated Mar. 26, 2008, Fred, in part, writes:
Russ,
You wrote:
"Sheepishly, I admit, the website has concentrated mostly on the RFML time frame. That's the time I was at Sembach, and the contacts/names that I have. You are the only person I've been communicating with that has single-missile experience. Any chance that you could summarize info about the way things were done before RFML (e.g., how many were on a crew, how were the missiles deployed, how much time was spent traveling around with the missile, vs. back at Sembach, where did the crew eat/sleep, etc., etc.)?"
The single missile crew consisted of nine people. In 1959 the missile field was still fairly new, so the more experienced guys, both officer and enlisted, were cross-trained from other fields, and only the lower ranking, newer folks were in their first career field. Now for some specifics.
The number "43 minutes" sticks in my mind as the Tech Order standard for the launch of a "cocked" missile, from the arrival of the crew at a "cocked" missile to the launch. That's not very fast. In fact, it's deadly slow, especially since we were about fifteen minutes Bad Guy flying time from the East German border! At our level, we hadn't heard about any "RFML" conversion being in the works, but I'm sure engineering and planning for it started long before we even left the states.
Under the original single-missile configuration, one alert crew at Site III would always be on 24 hour duty. During normal duty hours, they would pull routine confidence checks of missiles already on alert, and other missile maintenance inside the fence. Other crews would be tending to similar training, as well as admin duties around the site.
Like the other sites, Grünstadt originally had eight concrete pads. Ours were set in the trapezoidal area seen below, surrounded by a double security fence, and brightly lit with security lights. As you know, those lights could be seen for miles from the Rhine River valley. My aerial picture below (taken on a "buzz job" after Sim Missile T-bird mission) shows that in my time there we had no missile shelters, and the only buildings were four small, concrete block structures barely seen here between the pads. I don't have much of a memory of them; they were NOT launch block houses and had nothing to do directly with our missile ops. Mostly, I recall them just being empty. We used them as minor storage and smoke-break areas; there were no other official smoking areas inside the fence.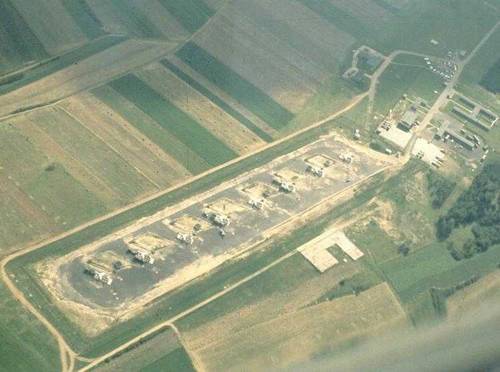 The concrete pads were small, hardly larger than the translauncher "footprint" itself. No doubt per his contract, the German contractor had covered the rest of the area inside the fence with an aggregate grade of fairly large white stones. This was very loose and hard to walk on …even hazardous, not to mention being hard on shoes and boots! It eventually sort of settled in as time went by and vehicles rolled over it, but originally it was a real annoyance. Funny how you remember things like that! Of course, launch crews in that system didn't spend all their alert duty inside a blockhouse, but were all over the place. We were indeed masters of all trades.
Note the empty U-shaped concrete foundation seen above outside the fence. I never did find out what it had been.
Below, the mystery foundation is seen empty even in this official 1956 USAF aerial photograph of the Security Service radio site. Evidently the Security Service didn't use it either!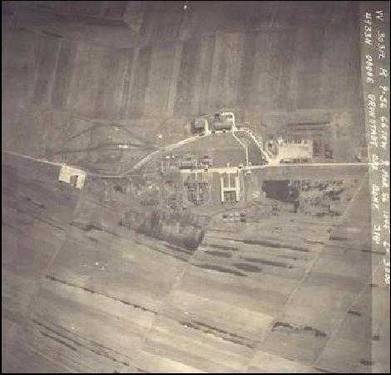 German farmers always centralized all their buildings, even barns, into the villages. I can't imagine them having a big lonely barn up there on the hill all by itself. Who knows, maybe there had been a WWII Luftwaffe radar site or something up there!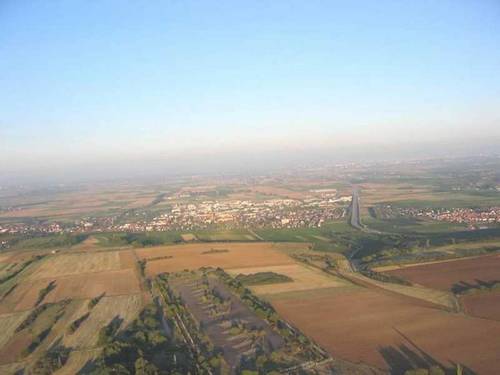 If you look closely at the left side outside the old Site III fence perimeter in this MODERN photo, you can barely see the same concrete foundation amongst all the trees that have grown there in the last almost-fifty years. This picture, found on the internet, was taken from a German "ultra-light" airplane. The view is facing east down the hill toward the city of Grünstadt, the autobahn is at far right. The area where the "T" and "H" buildings, etc had been located is out of view at the bottom.I understand that the site today is used by both Germans and Americans as a "paint-ball" combat course; also by Germans for ultralight and glider flying.
Back to the old days. Except for periods of higher alert, six of the eight pads usually had missiles loaded with warheads and booster rockets, electronically checked out, and on alert; but without any power applied to the missile.
Our four Missile Preflight Test/launch vehicles (MM1 flat bed truck with Power Packs and MPT test van mounted) would either be parked fully hooked up to one of the alert missiles, or in use at one of the remaining two pads for training, checking out another missile, or in use for the assembly and disassembly of missiles coming from/going back to the base for maintenance.
I've noted in some of your pictures that later, a separate dedicated RFML missile training complex had been established, so that no launch crew training seems to have been done at the operational sites.
Now, about the crew makeup in the original, single missile countdown concept. Short version, nine men: Launch Officer, Crew Chief, three electronics mechanics, two missile airframe mechanics, and two armament mechanics (one nuclear, one conventional).
Launch officer when the Mace was first deployed from Orlando (1959), L/O's were mostly 1st/Lts; a very few junior captains. A few of us were rated (pilots or navigators), the rest non-rated. I had been flying C-119's in Troop Carrier at Pope AFB NC.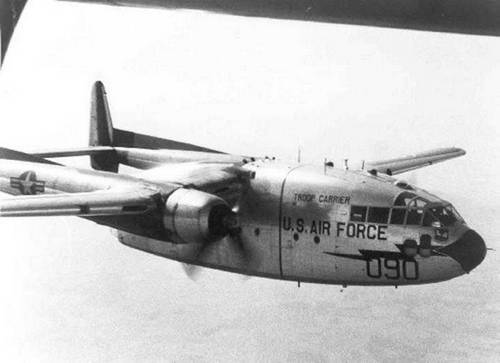 When an announcement for volunteers came down, the exciting new missile field was a siren call that made me jump at it in the summer of 1958. Of course, this was the "Sputnik Era" after that shocking first satellite and so shook everything and everyone less than a year before (Oct 4, 1957). In the Air Force at that time, missiles and space had become the hot button "career de jour". (But I have no regrets.)Another "C" flight plank owner had been Lt George Burker, from our first day at Tech School at Lowry in June 1958. He had washed out of pilot training a year or so earlier and wound up an adjutant in a squadron on a Long Island base. Like myself, being an engineer had helped him get the missile assignment, but he also liked the challenge and possibilities of the new field and wanted to get out of paper pushing. The opportunity for an assignment in Germany was a real plus too!
Another of the original launch officers was 1st Lt Scott T. "Scotty" Chandler who came aboard in Orlando. He had been an intelligence officer.
For your lists, George Burker is alive and well, and living in Yorktown Heights, NY. Scotty died less than two years ago; he'd retired to Evergreen Colorado.
The previous experiences and backgrounds of others ran the gamut. As mentioned before, our flight commander, Capt Dick Becker, had been a fighter pilot …in fact is officially the 2nd Jet Ace in history. (By accounts revised since Russian participation in the Korean War was revealed, an earlier "probable" was determined to actually be a "kill", making him the FIRST jet ace in history!) He had later been grounded after an eye injury, leading to the missile assignment.
Crew chief, mostly SSgts, with a few T/Sgts. Most had come out of the radio career field; many had a recent tour in USAFE on radio relay equipment including both CC's that I worked with. At Orlando SSgt Dan Sease had been my crew chief through training, but for reasons I can't remember didn't deploy with us. As you know, the rest of the mechanics crew positions were identified in the tech orders by number.
The two pictures below were taken during stateside crew training, in a then-abandoned part of Orlando's airport, then called Herndon Field. It's now called Orlando's Executive. It had been the original Orlando Municipal out in the boondocks from tiny Orlando until the Army took it over as Orlando AAF in WWII. In 1958-59, we were actually using abandoned former P-51 Mustang hard stands and taxi strips from WWII days.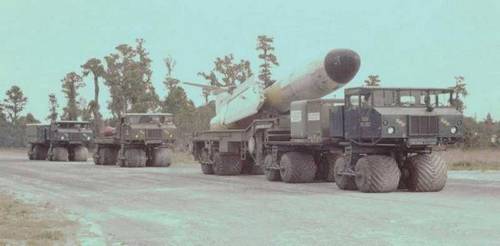 Today, that Orlando Executive Airport is virtually down-town, while Orlando Army Air Field's AUXILIARY airfield WAY out in the boonies at Pinecastle had become SAC's huge McCoy AFB, until IT closed, and is now Orlando International Airport.)Below, my Crew Chief Dan Sease is at the rear of the translauncher helping MM1 driver Jerry Hightower (see below) align the missile during initial setup. Talking to Jerry is #5 mechanic A/2c Davey (sorry, forgot the first name.)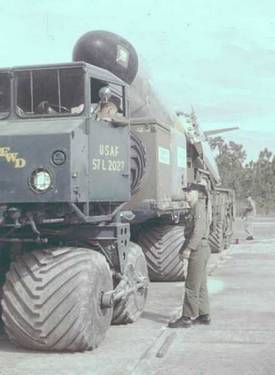 Before anybody says anything about the missile configuration: yes, I know the missile is not supposed to be transported with the nose and warhead section attached! But early-on the AGE shop was having trouble keeping the nose and booster pack cradles operational, so we had special dispensation for this one-time deal to move it with the nose on. Note also that this is an early production missile, from when they still had the autopilot altimeter's static ports (taped up here) on the radome, they were moved to the side of the missile for later production.For reasons I can't remember, Sease didn't make the deployment to Germany. After arrival SSgt Jim Crittendon replaced Sease as crew chief at Grünstadt. Previously, he had also been a radio relay NCO, with a recent tour at Bitburg, in fact I recall his wife was a teacher he'd met at Bitburg. Facing the camera below, Jim is shown in the alert-shack non-stop pinochle game.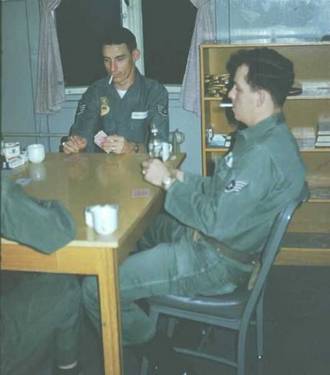 At right in the picture is SSgt Jerry Saunders (not sure about the first name) who was our conventional weapons guy, nominally in charge of the booster. I remember him well; he'd been a guns and bombs guys in fighters in the Korean,War, and was also adept at taking care of our own sidearms. Launch officers and crew chiefs were required to wear issue .45's (M1911A1 Colt automatics). At the time I had a personal .45 which Saunders had reworked for me (nice, smooth, light trigger pull, etc) so that it was a pleasure to fire. I recall being amazed at how accurate a properly "tuned" .45 could be in fact, I was even on the Sembach pistol team for a while. Getting back to the long-count crew manning: Mechanics #1, #2, and #3 were all electronics types, specialists on the ATRAN. Most #1's were what were then called "Airman 1st" (three stripes), with #2 and #3 correspondingly lower, #3's. Of course as time passed crew changes were made for a lot of reasons, but during I remember very well A1C (and then SSgt) Jesse Savage as my #1; also recalling Geldbaugh and Joe Casteel as #2 and #3.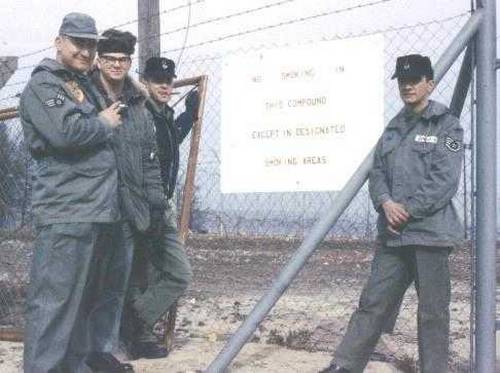 Above, just outside the gate to the missile compound. (No cameras inside.) Left to right; A1C Cousins, my nuke weapons mechanic, next to him with the fur hat is A1c "Cookie" Cook, my #2 electronics mech. SSgt Gerald "Jerry" Hightower, the #4 Airframe Mechanic, is next; and at right Ray Bonilla. (Thinking back now, I'm sure Ray's first name was probably Raimundo, but I never heard that. I'm sure when he grew up he'd been a native Spanish speaker, but I don't recall him uttering one word of Spanish in the three years I knew him. Back then Hispanics didn't make a show out of being Hispanic, but preferred to blend in to the group! Great guy. In the normal flow of things he'd been on my crew for a while also as a conventional weapons mechanic. In the next two pictures Ray is driving the Nose and Booster truck in stateside training to position it to transfer the booster rocket to the missile.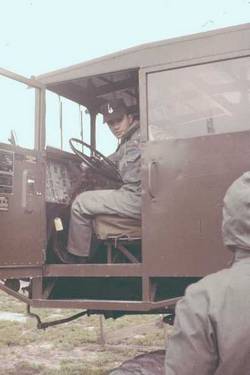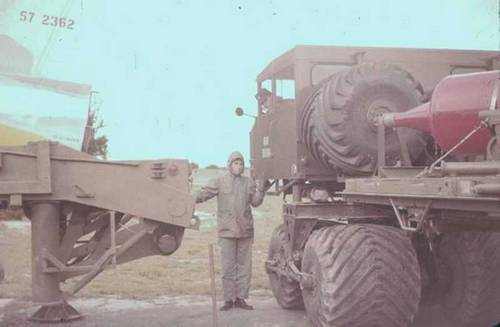 In the three years that most of us were together, there were a lot of substitutions and transfers so we knew each other's crew members pretty well.Casteel was married but as a one-striper on deployment had opted for a short, unaccompanied tour. I heard only a couple of years ago that he had been killed in a car accident in the 1960's, not very long after he got out of the USAF. Below Joe is standing at right at our 1960 Site III Gasthaus Christmas; applauding at left is "C" flight commander Dick Becker, next to him is George Burker, and the name of the man third-from-left is unfortunately lost in almost-fifty year fog.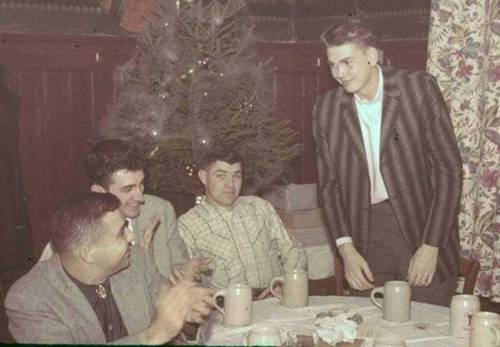 Mechanics #4 & #5 were airframe mechanics, cross-trained out of aircraft mechanic 433X1 career fields. The #4 was usually a S/Sgt, the #5 and one or two striper. My #4 mech was Jerry Hightower; he'd been in fighters (F-101) at Shaw AFB; standing facing the launcher is ___ Davey; sorry his first name has slipped away in all these year.