---
The original "C Flight" was the third increment of the first Mace squadron (822nd TMS) to be deployed to Sembach AB. With little help from 38th TMW, "C Flight" converted a former radio listening site into Site III – Grünstadt ("The Hill").
Here's a picture of the original "C Flight," taken in Orlando in June 1959. With help from "C Flight" alumni Fred Horky, John Stewart, Bob Bolton and Lee Kyser, we've been able to identify some of the people in the photo. If you can identify others, please send an email to Russ Reston.
Click on thumbnail to see larger image.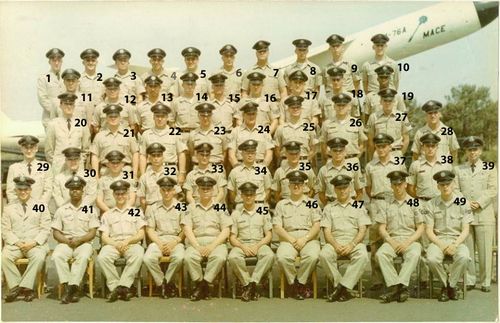 1st Lt. Frederick "Fred" Horky – Indian Trail, North Carolina
SSgt. Paul Vuxta – deceased
Sgt. Ersel V. Crussel
A2C Darrel Metzker – Winlock, Washington
A2C Michael E. Osiel – deceased
TSgt. Jerome J. Molik – deceased
SSgt. John Lovell
A2C Carrol M. "Danny" Daniel – Centertown, Kentucky
SSgt. Charles L. "Chuck" Chappell – Mesa, Arizona
A2C Joseph M. Romans
Capt. Eugene Wrenn – deceased
A1C Nealy
SSgt. Elias R. Salas
? TSgt. Jim Crittendon – Martinsburg, Pennsylvania
TSgt. Farnsworth
SSgt. Kenneth H. Niblick
McCraw
A2C Glenn Chamblin Jr. – Katy, Texas
A1C Downing
1st Lt. George Burker
A2C Tom Daugherty
Brice
A2C Davey
Underwood
A1C Ronald Butler
TSgt. Jerome Molik – deceased
A2C Casteel
MSgt. Mack Savage
Capt. Samalik
1st Lt. Scott T. "Scotty" Chandler – deceased
A1C Edwin M. Bell
TSgt. James E. "Jim" Hannah
A2C Tom Bowers – deceased
SSgt. John Stewart – Santa Maria, California
Harner
Saunders
Reynolds
A2C Peter Driscoll
Capt. Richard S. "Dick" Becker – C Flight Commander – Oldsmar, Florida
Capt. Diedrich Prigge III – B Flight Commander
SSgt. Patterson
A1C Joseph "Joe" Geldbaugh – Newalla, Oklahoma
A2C Frank D. "Andy" Anderson
SSgt. Vance K. Tibbetts – deceased
A1C Rus
A1C Donald R. Hess
TSgt. Clarence "Smitty" Smith
A/1C Robert "Bob" Rafferty – deceased
A2C Robert "Der Bop" Lambert
---
And here are a couple pictures from the C Flight 1959 Christmas Party, after deployment to Germany (note the "P"-logo Parkbrau steins).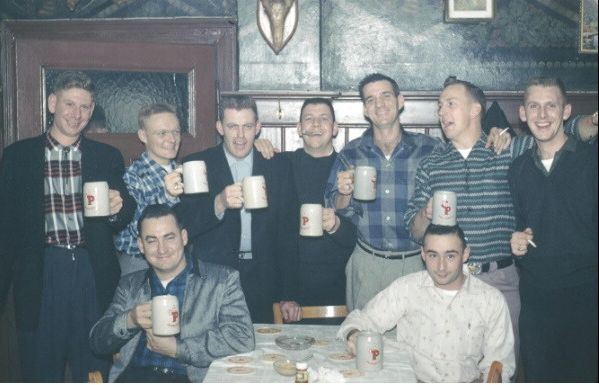 "All the usual suspects" — Seated at left, is Cousins. Standing fourth from left is Tibbets and fifth from left is Burton; Rafferty is next to him (second from right)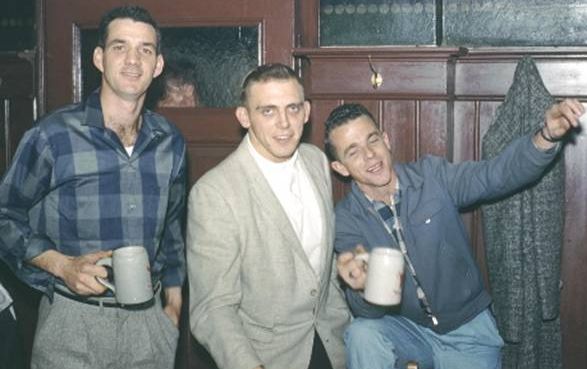 Burton, Atchinson, Hightower