---
In a February, 2008 email from Lee Kyser (887th TMS) to Fred Horky (887th TMS & 38th TMW Missile Operations Center), Lee wrote, in part:
"I then went into the missile field, arriving at Lowry for training in Dec 1959. Following 15 months of training, I arrived at Sembach in March 1961."
Fred responded as follows:
Your arrival at Sembach was just about as we were beginning to transition the Mace to the RFML (Rapid Fire Multiple Launch) configuration. For the original "long-count" launch crews, the result was pretty boring alert duty, compared to what we'd been doing, which was everything on the launch site: missile set up and tear down, trouble shooting, routine maintenance, and of course alert duty. Also, at Site III (Grünstadt) since the enlisted guys were living on-site, grounds duty, painting, and the usual G.I. "whatever-there-is-to-be-done".
Alongside the "H building" at Grünstadt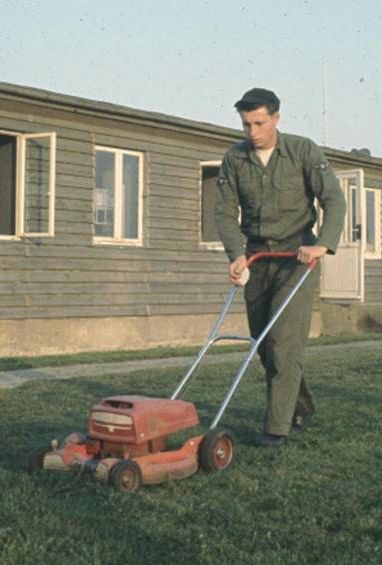 He wasn't on my crew, but my notes say his name was Driscoll.
As I think was mentioned earlier, the Mace sites at Hahn A.B. were configured from the beginning as RFML sites. When Sembach's Grünstadt site "stood down" for conversion to RFML (late spring of '61) the launch crews there had a quick RFML training period and certification, and then started traveling to Hahn on rotating alert duty TDY's (Temporary Duty assignments), hazy memory recalls each one as about a week on/week off. While at Hahn we pulled shift duty alert; I think 24 on/24 off. Again, hazy memories. This is Hahn's RFML site when I pulled alert; my notes say it was near Hecken.

Hahn was very tight on quarters for everyone, since we had a considerable number of Sembach folks up there TDY for a long time, added to their own 586th TMGp missile people, plus the host unit 50th TFWg with F-100's. I don't think they were very happy with us being there!
Compared to the earlier duty under the old Mace configuration, my strongest memory of my Hahn TDY duty that summer was being in a brand new cell (the blockhouse) with the strong odor of fresh new concrete and paint. I have no memories whatever about even seeing anything else at Hahn other than our doubled-up temporary quarters. Can't even remember the BX, theater, club, whatever: I likely never got to any of them. We were just sort of rotated in and out of a cell.
When the weather was decent I do remember driving back and forth to Sembach as fun, however; especially if the car was at all sporty, like my little Karmann-Ghia convertible. (A Volkswagen "sheep in wolf's clothes"?..)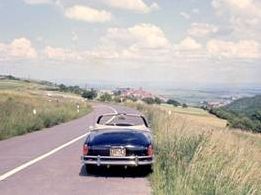 Driving down the hill at Grünstadt, pointed toward the Rhine Valley
Schloss Neuleiningen is straight ahead in the background
The trips back and forth to Hahn that summer were very scenic;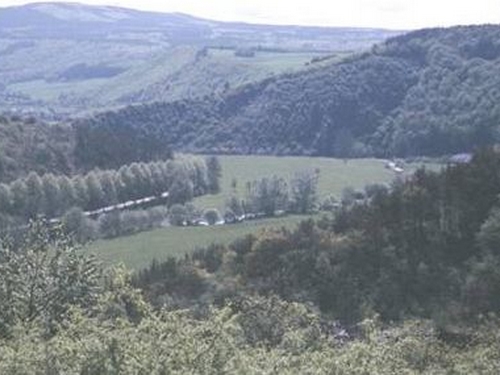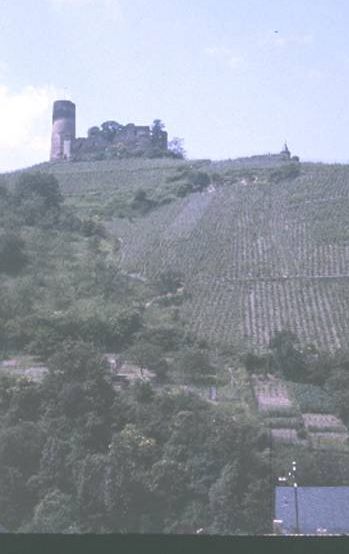 (O.K., so this wasn't EXACTLY on the way home, but a shot of the scenic nearby Mosel River valley?)
While on RFML alert duty at Hahn one fine day that summer, my friend Lucien Byron called from the 38th TMWg command post where he worked. He asked if I'd be interested in leaving alert duty to work with him down in "The Hole" back at Sembach. Lucien had recommended me to his CP boss, Major John "Ham" Hickson. My answer to that was "when do I start?"
By the way, Hickson's picture was included in that set of security pass pictures that Russ sent me a week or so ago. Here is that picture, cropped out and adjusted.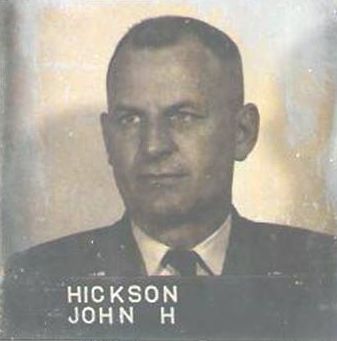 As you might guess from his security pass picture, "Ham" tried to project a gruff, "tough guy" appearance, but was really a prince of a guy both to know personally and for whom to work.
The MOC (Missile Operations Center) was the typical command post as seen in movies, with a "pit" with communication consoles for duty NCO's and officers in front of the huge back-lite, grease-pencil marked Plexiglas status boards that showed everything that was going on at every missile site in the whole wing. Behind the duty personnel was a large, elevated, glass enclosed "VIP box" where the battle staff (the Wing C.O. and senior officers) nervously resided during exercises and ORI's (Operational Readiness Inspections). The CP was quite literally "the eye of the storm".
During an exercise it could be hectic down in that hole if things weren't going well and ESPECIALLY if the Wing C.O. was a "nervous nelly" who just couldn't resist getting into everybody's business. We had one new Wing C.O. (who shall remain nameless) who TRIED to micromanage every aspect of and everybody in the wing from down in that hole. This was the period when the wing went from "outstanding" to "failed" so quick that we had busted an ORI before we even had the parade to receive the AF Outstanding Unit Award. And then it got worse.
That's when I learned to particularly be thankful for Ham Hickson, who would deftly deflect the ire of the Wing Commander away from the duty controllers, so we could do our jobs.
The picture below shows my fellow duty officer Lucien "Luce" Byron at left with "Ham" Hickson at his quarters at Sembach; the Sembach elementary school is in the background. The occasion was a dinner party in July 1962, before my PCS (Permanent Change of Station) back to the states.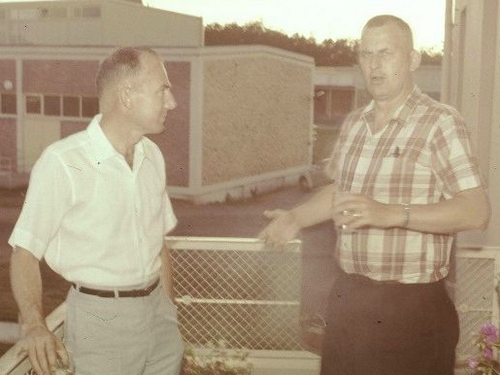 Of course we'd all long-since figured out the gruff, bear-like exterior that he tried to project.
Sadly, John "Ham" Hickson died of cancer just a couple of years ago.