---
Army eyes relocation of several headquarters in Germany to Sembach
(Click on image to enlarge.)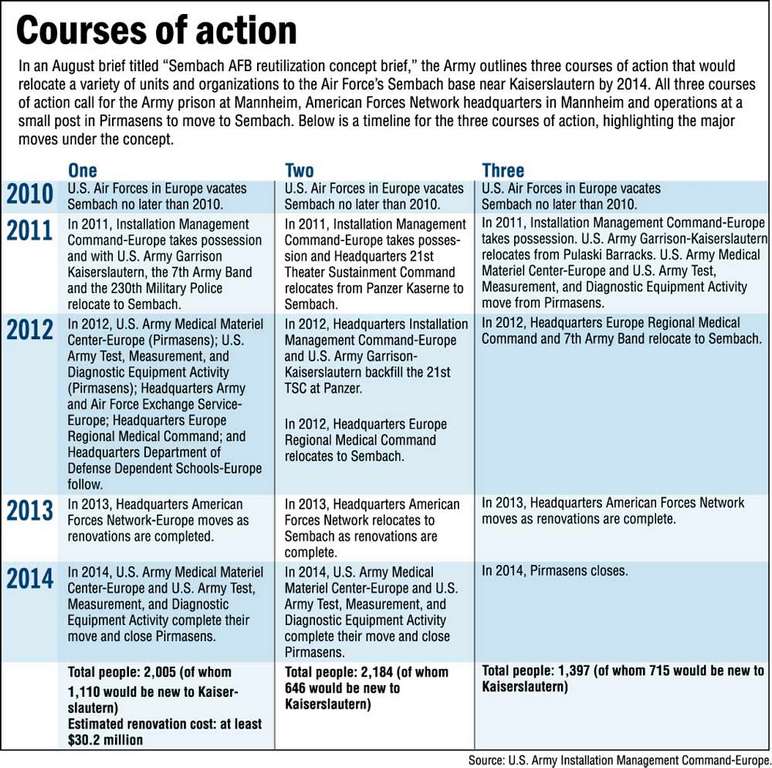 KAISERSLAUTERN, Germany — The Army is developing plans that would relocate several headquarters from around Germany and the military prison in Mannheim to Sembach Air Base near Kaiserslautern.
If approved, the first moves would begin in about two years and add hundreds of soldiers and civilians to the Kaiserslautern Military Community, according to a U.S. Army Installation Management Command-Europe brief obtained by Stars and Stripes. Anywhere between about 1,400 and 2,200 more people would work on Sembach under the plan, according to the brief.
Under variations of the plan, Sembach could house the headquarters of Europe Regional Medical Command, 21st Theater Sustainment Command, American Forces Network-Europe, Department of Defense Dependent Schools-Europe, Army and Air Force Exchange Service-Europe, Installation Management Command-Europe, U.S. Army Medical Materiel Center-Europe and U.S. Army Garrison-Kaiserslautern.
Other units and activities mentioned as proposed Sembach tenants include the 230th Military Police Company, the 7th Army Band and the confinement facility in Mannheim.
Just four years ago, AFN-Europe headquarters relocated to an $8 million renovated, state-of-the-art facility on Mannheim's Coleman Barracks and spent roughly $5 million on new equipment. AFN-Europe deferred comment to IMCOM-Europe on the possibility of a move.
The brief represents a pre-decisional staff study of stationing options out of IMCOM-Europe's stationing management office, said Ken White, IMCOM-Europe spokesman.
"This does not represent or imply any decisions or approvals," White said. "It is one of a number of studies we have ongoing."
Officials at U.S. Army Garrison-Kaiserslautern and 21st Theater Sustainment Command deferred comment to IMCOM-Europe. AAFES-Europe is not aware of any official plans to move, according to a statement from Army Lt. Col. David Konop, AAFES spokesman.
However, the Air Force said future plans for Sembach are indefinite and based on several factors, according to a U.S. Air Forces in Europe statement.
"Real-world contingencies and theater transformation initiatives may require overflow facilities to support the movement of organizations and personnel," according to the statement. "Existing planning documents represent only possible courses of action that are being studied."
The moves to Sembach could save millions of dollars a year in base operating costs and consolidate Army activities in an area that has been declared one of the Army's enduring communities in Europe. It would offer a home to some operations at Mannheim's Coleman Barracks, which is not an enduring location, and reduce the planned presence in Wiesbaden by 721 people, freeing up space in the crowded Wiesbaden area.
The Air Force is set to declare Sembach as excess in fiscal 2010, according to the brief. Sembach, just north of Kaiserslautern, is largely vacant but houses a middle school and the Air Force's 21st Operational Weather Squadron. There are also barracks and a large number of vacant housing units. The school on Sembach would be retained until a new high school is built in fiscal 2014 at the Air Force's Vogelweh installation, according to the brief.
The Kaiserslautern Military Community, which includes Ramstein Air Base, is home to roughly 50,000 Americans — the largest concentration of Americans outside the U.S.
Three courses of action are currently being considered, according to the Aug. 15 brief, titled "Sembach AFB reutilization concept brief." All three variations call for the Army prison at Mannheim, American Forces Network headquarters in Mannheim and all operations at a small post in Pirmasens to move to Sembach by 2014. The closing of the Pirmasens post would affect about 350 workers at the Army medical supply warehouse and U.S. Army Test, Measurement, and Diagnostic Equipment Activity in the city south of Landstuhl.
Pirmasens mayor Bernhard Matheis said Wednesday he had not been informed that such a plan was in the works.
"I cannot believe that the [U.S. Army Medical Materiel Center-Europe] will be shut down. Until now, we always had an excellent relationship with the responsible people from the Army. Thus, I believe, if they were planning to shut down their places in Pirmasens, they would have informed us about it," Matheis said.
Moreover, the mayor said: "I will not further comment on the issue until I have talked to the people responsible."
Under all the courses of action in the Army plan under development, IMCOM-Europe would take possession of Sembach when the Air Force vacates the base in fiscal 2010. Renovations at Sembach in preparation for the moves could begin as early as this time next year, according to the brief. Units and organizations would begin moving onto Sembach in fiscal 2011, and all moves would be completed by fiscal 2014, the brief states.
The plan would allow the Army to close Pulaski Barracks in Kaiserslautern, Husterhöh Kaserne in Pirmasens, Coleman Barracks in Mannheim and Nachrichten Kaserne in Heidelberg, saving $19 million in annual base operating costs. The annual base operating cost for Sembach is $7.3 million, according to the brief.
It is assumed that USAFE would request some or all of Pulaski Barracks when the Army relocates Kaiserslautern garrison or vacates Pulaski, according to the brief. Pulaski Barracks is connected to the Air Force's Vogelweh installation and has its own vehicle entry/exit gate.
Army officials are scheduled to conduct briefings, surveys and planning between now and December. In January, the Army, along with USAFE, would initiate the transition, and by this time next year renovations would begin, according to the brief.
Stars and Stripes' Marcus Kloeckner contributed to this report.